Limited Time & Availability
10:00
Empower Your Child's Future by Giving them the Gift of their Black Belt Journey!
$29.95 TWO WEEK TRIAL AND A FREE UNIFORM
Secure your spot & get started today.
Only 7 Spots Remaining!
By opting into the web form above you are providing consent for Infinity Taekwondo to send you periodic text messages. Standard rates may apply. You can reply HELP at anytime or learn more. You may opt-out anytime by replying STOP.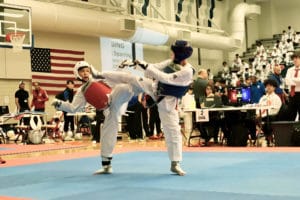 Get in on our holiday sepcial
$29.95 Two Week Trial and a FREE Uniform
Unlock the power of martial arts this holiday season with our exclusive Taekwondo Holiday Special! For just $29.95, enjoy four trial classes and receive a FREE uniform, kickstarting your journey to strength, discipline, and self-confidence. Embrace the spirit of giving and self-improvement – sign up today!
You get:
🥋 A FREE Uniform:
Every new student begins with the right gear – a high-quality uniform, provided at no cost!
🥋 Flexible Start Dates:
Begin their Black Belt Journey immediately or after the Holidays – the choice is yours. And yes, we'll give you the uniform early to wrap and make their first present!
🥋 Two Weeks of Lessons
Empowering Taekwondo Lessons led by Infinity Taekwondo's and Texas A&M's expert instructors. These lessons are your child's first step towards mastery.
🥋 Skills for Today, Tomorrow, and Beyond:
Our classes are about more than just Martial Arts. It's about instilling focus and discipline that translates to success in all areas of life. The best part, they're going to have blast learning and love you for it!